WHITE PAPER: BUILDING A HYBRID CLOUD WITH AZURE FOR ENTERPRISES
To stay competitive, enterprises today need to streamline assets and applications across multiple public and private cloud environments to ensure high availability, reliability and control over costs.
This white paper will guide you on the way to go and the benefits of deploying and administering on-demand cloud resources from a single pane of glass with a hybrid cloud architecture built with Microsoft Azure. Learn how to implement and manage an intelligent cloud strategy to optimize performance, costs and business continuity. Enable cross-cloud enterprise operations and control at scale!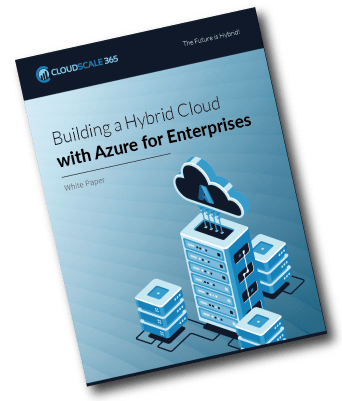 In this White Paper you will discover:
Why hybrid clouds?
Migration to the cloud
Creating a hybrid cloud strategy
Challenges of building a hybrid cloud
Benefits of using Managed Services
The hybrid future – managing remote teams
Operating a hybrid cloud – DIY or Managed Service
Levaraging hybrid clouds to drive innovation to your business and workload
Fill in the form and get the White Paper in your inbox immediately!
REGISTER TO DOWNLOAD THE WHITE PAPER