No matter in which industry your work, the use of IT services is a vital part of your everyday life and business success. You need a secure cloud environment for your applications, a Test/Dev environment for your developers, and security solutions to ensure your data and workloads are protected. Your website needs an SSL certificate, reliable backups, DDoS protection. In addition, you may need specialized services like SD-WAN, Firewalls, and 24/7 monitoring of the reliability of your applications. The list of the needed IT services does not end here. Especially if you are managing remote teams. For many companies, it is close to impossible to have an internal team with such wide expertise. Moreover, having a team specialized in all these solutions internally requires a huge budget for recruiting and salaries.
For all the above-mentioned points and also for financial reasons, working with an external IT provider is a preferred option for many companies. The collaboration with a skilful managed service provider allows companies to get the needed IT solutions and expertise at the moment they need them. Moreover, hiring an IT service provider is financially better for the company. You have also access to the latest innovations and technology solutions, without the need to support an internal R&D team. Another benefit is that you can save costs from licensing. But how to be sure you are making the right choice of IT service provider?
The CloudScale 365 Team has prepared a short infographic, which can help you find out if your IT Service Provider is the right fit for your needs!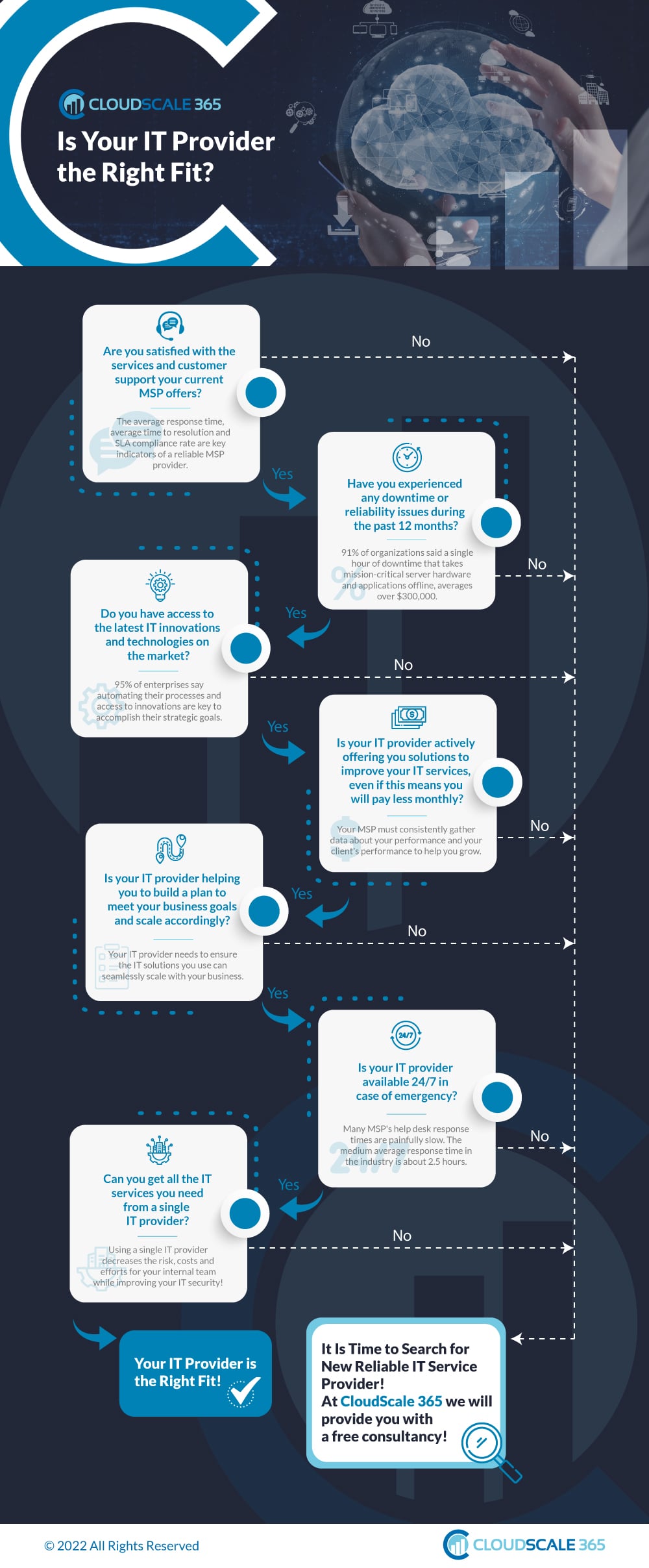 Key Factors to Choose and IT Service Provider
SLA and Customer Support
The average response time, average time-to-resolution and overall SLA are key factors to consider when choosing an IT service provider. The SLA is clearly defining the obligations and responsibilities of the MSP with which you will work. It provides protection for both sides and is a document to refer to in case of any disputes. We recommend you review it carefully before choosing your IT partner. In addition to it, most of the MSPs support internal statistics for the average response time in case of tickets submitted. And you may ask to take a look at it before signing a contract.
Downtime and Reliability
As a business, you need to ensure that your workloads are safe and secure and always accessible. The keyword here is reliability – can your IT service provider ensure maximum uptime for your cloud and applications, which also includes maintenance and upgrades, which are not causing any downtime? If you notice that your MSP is regularly having reliability issues or problems during upgrades, we recommend you search for another option.
Access to Top-notch Technology
An experienced IT Service Provider needs to always research the latest technologies and implement innovations. This is extremely important in terms of the security and provisioning of managed services. As a company, implementing the latest innovations will help you to implement smart automations and ensure higher efficiency and reliability of your applications, thus better end-user satisfaction.
A Thought for the Future
Your IT Service Provider is also your long-term partner. They are not just a provider of a service, but also need to help you grow, building a long-term roadmap, disaster recovery solutions, business continuity and reliability plan. A good MSP will also offer you new and better solutions, no matter if this will lead to you paying lower monthly fees.
Emergency Scenarios
The one and only thing with which you need to make no compromise is how your IT service provider behaves in case of emergency. 91% of organizations say that a single hour of downtime averages to $300 000 loss. Every second downtime causes financial loss, loss of trust and market share. And the worst scenario is losing customers' data. So you need to be sure that your IT service provider is 24/7/365 available in case of emergency and you can rely on it to resolve even the toughest problems.
At CloudScale 365 we are proud to say that we are always together with our customers – helping them scale and meet their targets. We put the Ops in DevOps! When top-tier infrastructure combines with experience and ingenious engineering power, the magic happens.
Learn more about our managed services here!